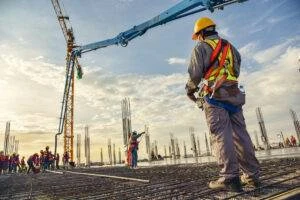 Cranes are useful machines that construction workers use when working on building projects. But workers and the public can suffer debilitating injuries if the various parties involved don't follow the safety precautions and industry standards.
If you were injured as a pedestrian or worker in a crane accident, a White Plains, NY, crane accident lawyer can help you recover compensation for your pain. At Morelli Law Firm, we're here to help you hold the liable parties accountable and get the compensation you qualify for.
Common Causes of Crane Accidents
You could suffer injuries in many ways when working with a crane or in proximity to one. Whether your injuries are from a construction accident or another situation, the effects of crane injuries are severe. According to OSHA, the most common causes of crane accidents are due to:
Electrocution

Boom collapses

Overloading

Struck by load

Crane assembly or disassembly

Hoist limitations
Each of these causes is a result of negligence. Our team can give you a free case evaluation and tell you if you qualify for a crane accident case.
If you do, our White Plains crane accident attorneys can help determine how negligence played a role in your accident and who is responsible for your injuries.
Injuries You Can Suffer in a Crane Accident
The weight and size of cranes can cause a wide range of devastating injuries. The most common injuries crane accident victims suffer include:
Traumatic brain injuries

Internal bleeding

Spinal cord injuries

Head injuries

Neck injuries

Organ damage

Nerve damage
After you suffer injuries, you should consult with a medical professional. Even if you don't think you have any injuries, you may have injuries that aren't showing symptoms. A doctor can identify invisible injuries like internal bleeding and prevent them from progressing.
Statute of Limitations for Crane Accidents in White Plains, NY
If you were injured in a crane accident, and it wasn't at your work, you have a limited time to file a personal injury claim. According to New York Civil Practice Law & Rules § 214, you have three years to file a claim.
Our lawyers suggest you file your claim early to ensure you are eligible for compensation. If you wait too long to file and miss the deadline, you won't be able to recover any damages.
What if the Accident Happened at Work?
If you're a construction worker and suffered injuries in a crane accident at work, you can file a workers' compensation claim to receive benefits. But before doing so, you must notify your employer within 30 days of the accident. After you notify your employer, you must file a workers' compensation claim two years from the accident date.
The form you use to file is called a C-3 Form. To fill out this form, you'll need the following:
Employer's address and name

Your gross wages per pay period

Contact information for other employers you worked for when you were injured

Contact information of the doctor that treated you
Whether you're filling out a workers' compensation claim or a personal injury claim, a crane accident lawyer in White Plains, NY, can help you file your claim on time. And remember, the sooner you file, the higher the chance you have to recover the maximum compensation amount.
Damages a White Plains Crane Accident Lawyer Can Help You Recover
After you sustain injuries in a White Plains crane accident, New York law allows you to recover damages for your pain. At Morelli Law Firm, a crane accident attorney in White Plains, NY, can help you recover economic and non-economic damages.
Economic Damages
Also known as monetary damages, economic damages are losses you can recover that impact your financial situation. They have a dollar amount attached to them. Common economic damages you can recover include:
Medical expenses

Loss of income

Loss of earnings capacity

Physical therapy

Property damage

Loss of household services
Non-Economic Damages
Non-economic damages are losses a lawyer can help you recover that affect your emotional and mental wellness. These damages don't have an exact dollar amount, but we can help assign an appropriate amount. Non-economic damages you can recover include:
Pain and suffering

Loss of consortium

Loss of enjoyment of life

Mental anguish

Physical impairment

Injury to reputation
You could be eligible for additional compensation based on your individual circumstances. Our lawyers can tell you the value of your claim when you meet with us.
What Is the Average Crane Accident Settlement in White Plains, NY?
Many of our clients ask what the average settlement is for their specific type of case. But due to the vast differences in each case, there is no one-fits-all answer. So instead, a crane accident lawyer in White Plains, NY, determines settlement amounts based on three factors:
Severity of Injuries
The general rule of injuries in personal injury law is that the more severe they are and the more medical assistance you need, the higher your settlement will be. This is true because when you require a lot of medical care, your settlement has to be large enough to cover the costs.
There are also specific injuries associated with crane accidents that could amount to a higher settlement. Injuries that may require lifelong assistance, such as traumatic brain and spinal cord injuries, are often worth more and can increase your settlement.
Degree of Negligence
Another element that can affect your crane accident settlement is how severe or even intentional the negligent party was in their actions. For example, if a manufacturer knew a crane they made had a major defect but still sent it out for companies to use, your lawyer could argue for punitive damages.
Punitive damages are intended to punish the defendant for intentionally ignoring the duty of care. Adding these damages to your case would significantly increase your settlement amount.
Number of Liable Parties
The final factor that could affect your crane accident settlement is how many parties are responsible for your accident. If multiple parties are at fault, you and your crane accident attorney in White Plains, NY, can file a claim against all parties.
For example, if the operator wasn't properly trained on how to use the crane and you suffered injuries as a result, you could hold the crane operator and the employer accountable. The crane operator is responsible for properly using the crane, but both are responsible since the employer failed to provide proper training.
Our crane accident attorneys are ready to help you discover the value of your claim. We'll look at the abovementioned factors and determine how they affect your settlement amount.
Contact Us to Determine if You Have a White Plains, NY, Crane Accident Case
Our team of White Plains, NY, crane accident lawyers at Morelli Law Firm is ready to take on your case. We'll be your legal advocate and fight for the compensation you qualify for.
Call us or fill out the contact form on our website to get a free case evaluation today.