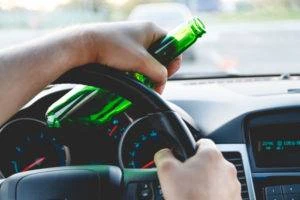 When people drive while intoxicated, they may think that they're driving just as well as they do when they're sober. That is, until they hit you in a car accident and you sustain severe injuries that can take months to heal. In addition to your injuries, medical bills and weeks of missed work pile up.
If you or someone you loved was injured in a car accident due to a drunk driver's negligence, our drunk driving accident lawyers in North Bergen are ready to help. We'll evaluate your case for free and guide you through the legal process so that we can get you the compensation you deserve.
At Morelli Law Firm, our lawyers are passionate about holding negligent drivers accountable and helping victims recover from their accident.
Types of Damages You Can Recover From a Drunk Driving Accident
When you're hit by a drunk driver, it can be a traumatizing experience, even if everyone in the accident survived. You may suffer from post-traumatic stress disorder, which comes with frequent flashbacks that can make you constantly feel on edge. This is just one of the many damages you can receive compensation for.
Other damages you may be entitled to include:
Loss of wages
Medical expenses
Loss of guidance
Vehicle repairs or replacement
Punitive damages
Mental health support
Our North Bergen drunk driving accident lawyers closely examine each case and find all the damages your case qualifies for. Our attorneys know how the tactics of drunk driving defendants, and we'll protect you against any and all efforts to lessen your settlement amount.
For all the pain and stress you went through, you deserve compensation, and we're ready to fight for you.
How to Prove Negligence in a Drunk Driving Accident in North Bergen
While it may seem obvious that a drunk driver is negligent in their actions, you must be able to prove it with evidence. You must show four elements to prove negligence in a North Bergen drunk driving accident. The elements include:
Duty of Care
The first element you have to prove is that the driver owed you a duty of care. This is defined as acting in a reasonably responsible manner to avoid dangers and risks that may put others in harm's way. Every time you drive, you and other drivers must exercise responsibility and not take actions that could cause an accident.
In a drunk driving accident, the driver has a duty of care not to drink and drive because it is a behavior that could hurt other drivers. As another driver on the road, they had a duty to drive responsively.
Breach of Duty of Care
The second element you must prove is a breach of duty of care. When someone breaches the duty of care, they participate in actions that they know could hurt others, but they choose to do them anyway.
Drunk driving is indeed a breach of duty of care because it inhibits drivers' reaction times and decision-making, leading to accidents. People know that drinking and driving is risky and illegal but choose to do it anyway, which qualifies as a breach of duty of care. The best evidence to prove a breach is the results of the negligent driver's blood alcohol concentration level.
Causation
After you prove a duty of care and the breach of it, you must prove that the driver's negligent actions led to your injuries. The driver's actions must clearly and directly be a result of your injuries.
In drunk driving cases, just saying that the driver was drunk may not be enough to prove negligence. This is because a mechanical failure may have caused the accident, and the driver just happened to be inebriated.
One way you can prove negligence is to show that the drunk driver's actions led to risky behavior, such as swerving or speeding because of the effects of alcohol, which led to the accident.
Damages Owed
The last thing you must prove is that the injuries you have sustained from the accident qualify for compensation. This can be one of the easiest elements to prove since most injuries in a car accident affect your life to some capacity. Medical bills, emotional trauma, and missing work are just a few of the many compensable damages.
A drunk driving accident often qualifies for non-economic damages like pain and suffering and economic damages like loss of income. In addition, accidents where alcohol is involved, can also qualify for wrongful death damages if you have lost a loved one.
Our lawyers want you to have the best possible outcome for your case. If you need further help on proving negligence or would like assistance gathering evidence, we're here to help. When you meet with a North Bergen drunk driving accident attorney at our firm, we'll help you build a strong case.
Statute of Limitations for Drunk Driving Accident Claims in New Jersey
When a drunk driver hits you in the state of New Jersey, you have two years from the day of the accident to file a claim under N.J. Stat. § 2A:14-1. If you fail to file within this time, you are unlikely to receive any compensation.
However, each case is different, which means that you may have more or less time than the statute of limitations states. That's why it's best to have a drunk driving accident attorney on your side to help you know when to file. Based on your injury case details, we can tell you when your deadline is.
Our North Bergen Drunk Driving Accident Attorneys Are Here to Help
After you are hit by a drunk driver, you may be frazzled and stressed about how you're going to recover. Our North Bergen drunk driving accident lawyers at Morelli Law Firm are here to help you with filing a claim, negotiating with insurance companies, and fighting for your settlement.
If you or someone you loved was a victim of a drunk driving accident, you may be eligible for compensation to cover your losses. Give us a call or fill out the form on our website to start your free case evaluation today.