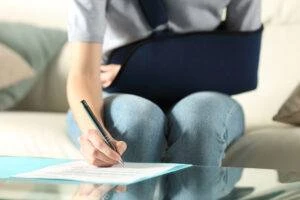 A hit and run accident can cause a lot of confusion. In addition to the immediate shock and disorientation, you may face challenges in identifying the responsible party. If you were injured and not sure where to turn for support, our hit and run accident lawyers in Chicago can help you file for compensation.
At Morelli Law Firm, we offer compassionate legal support to injured victims. Our legal team will help you build an evidence-based case and secure the compensation you need to reclaim your life. Call our Chicago car accident lawyers to discuss the details of your case.
Recovery Options for Hit and Run Victims
What makes hit and run cases particularly challenging is that the at-fault driver is often not identified at the scene. While some victims believe that they can't receive compensation without knowing the identity of the reckless driver, that is not the case.
In Illinois, you could still receive compensation from your insurance company, even if the at-fault driver drove away without being identified. A personal injury lawyer in Chicago, IL, will help you review all available options for your financial recovery.
The Driver Is Identified
If you identified the other driver, your attorney can claim damages from their insurance company. We will review all available evidence to establish the liability of the at-fault party. Our legal team is experienced in dealing with insurance companies and will file a strong claim to maximize your chances of a favorable outcome.
Whether through negotiation or, if necessary, litigation, we will fight for the compensation you need to move forward after the crash. Identifying the responsible party is a crucial step, and our attorneys can leverage that information to hold them accountable for the harm they have caused.
The Driver Is Not Identified
If you could not identify the driver who caused the collision, you may still qualify for compensation under your insurance policy's uninsured motorist provision. Your insurance company will usually cover any losses suffered after a hit and run, even if you were injured as a pedestrian or bicyclist.
The insurance company, however, won't want to pay out your claim, so they may even offer to assist you in identifying the liable driver. They may also try to devalue your claim or outright deny it. This is why you should seek legal representation from a seasoned attorney.
A hit and run accident lawyer can take over all the communication with claim adjusters and advocate for your best interest. Our legal team is well-versed in the tactics used by insurance companies to avoid paying a fair amount. We will build a strong, evidence-based case on your behalf to show the full extent of your losses.
Available Compensation for Hit and Run Accident Victims in Chicago
The financial impact of a car crash can be staggering, amplifying the emotional and physical toll on the victim. An experienced lawyer from Morelli Law Firm will calculate all your losses and estimate future future expenses.
Beyond immediate medical expenses, which can accumulate rapidly, there are often ongoing healthcare costs for rehabilitation. Furthermore, the loss of income due to missed work during recovery increases the financial strain.
Recoverable damages after a hit and run crash in Chicago include:
Medical bills

The cost of future medical treatments

Lost wages

Diminished earning potential

Loss of consortium

Diminished quality of life
With a deep understanding of the legal nuances involved, your attorney will carefully assess the situation. They will gather evidence such as medical records, repair estimates, and documentation of lost wages. Your lawyer will skillfully weave this evidence into a compelling narrative, illustrating the full extent of your losses.
An Experienced Chicago Hit and Run Accident Lawyer Will Investigate the Crash
A hit and run accident, despite its sudden and often chaotic nature, can leave behind a trail of crucial evidence at the scene. Even after the driver attempts to escape responsibility, the scene often holds vital details that, when carefully analyzed, can help identify the responsible party.
Valuable evidence may include debris from the fleeing vehicle, tire marks, or even fragments of the license plate. Additionally, advancements in surveillance technology mean that nearby cameras could have captured valuable footage, providing a visual record of the incident.
From reviewing surveillance footage to collaborating with law enforcement agencies, our lawyers work to piece together the puzzle and identify the responsible party. By entrusting the legal process to a skilled attorney, you can focus on healing without the added stress of navigating complex legal procedures.
Illinois' Statute of Limitations for Personal Injury Lawsuits
In the state of Illinois, the typical statute of limitations for personal injury cases is two years from the date of the incident. This means that you have a limited window of time to file a lawsuit against the defendant. Failing to adhere to this timeline may result in the forfeiture of your right to pursue a claim.
The statute of limitations encourages prompt action after an accident while also ensuring that legal matters are resolved within a reasonable time frame. Consulting a knowledgeable personal injury attorney early on is essential to gathering evidence and initiating the legal process effectively.
Our Chicago Hit and Run Accident Attorneys Will Help You Seek Justice
If you or a loved one were injured in a hit and run accident, our lawyers can help you hold the at-fault party accountable. We will investigate the scene and any additional evidence we find to prove liability and help you receive the maximum settlement.
At Morelli Law Firm, we understand that handling the legal aftermath of a car crash can be overwhelming. Our Chicago hit and run lawyers can help you navigate the financial recovery process and seek justice. Contact us today, and we can start working on your case.