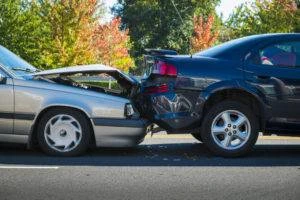 How you get out of a minor car accident in New York is generally not an issue because of the state's no-fault car insurance laws. In accident cases involving a minor injury or property damage, fault never comes into play based on no-fault insurance laws. Instead, each party pursues the compensation they need based on their own no-fault personal injury protection (PIP) policy.
If the police found that you caused a traffic accident, you may face a traffic citation. However, this should be the only consequence you face as a result of your minor traffic accident. This is especially true in fender benders that had no one involved suffer injuries.
No-Fault Coverage Should Cover Your Losses
In many minor car accidents in New York City and nearby areas, the people involved in the collision each turn to their own personal injury protection policy (PIP) for coverage. According to the New York Department of Financial Services (DFS), this type of policy should include up to $50,000 coverage for:
Medical treatment and expenses up to policy limits
A portion of your lost wages caused by time away from work
Additional losses to cover expenses related to your accident
While medical care is expensive, $50,000 in coverage generally provides enough compensation for minor accident injuries. If you were at fault in the accident and exceed this limit, you may be able to get more compensation through an Additional No-Fault (Additional PIP) policy if you purchased one. Alternatively, your health insurance may cover some of your expenses.
It is important to note that you will need to file your PIP claim as quickly as possible after your accident or notify the insurance company that it is forthcoming. You generally have up to 30 days to notify your insurer. Otherwise, you may need to submit additional proof explaining the delay.
Have You Been Injured In An Accident? Contact Morelli Law
877-751-9800
Pursuing a Fault-Based Claim After a NY Traffic Accident
How you get out of a minor car accident in New York becomes more complicated if it turns out that our injuries are more serious than you realized. While you may have up to $50,000 in PIP coverage available, the total costs for treating more serious injuries and time away from work can quickly exceed those benefits.
According to the DFS, you may be able to build a case based on fault and hold the driver who caused your accident accountable if you meet specific criteria. You may be able to file a claim if any of the following applies to your situation:
You need treatment that exceeds your PIP limits
You suffered serious or permanent injuries as defined under state law
You are unable to engage in your normal activities for at least 90 days of the six months immediately following the accident
You have a family member who lost their life in the traffic accident in question
If you believe that you might qualify to file a liability claim, reach out to an attorney for a consultation. A legal representative can explain if your case qualifies for compensation and help you meet all applicable deadlines. Under the New York Civil Practice Law & Rules (CVP) §214, accident victims with serious injuries generally have up to three years to take legal action against the at-fault motorist legally responsible.
Possible Damages Recoverable in a Fault-Based Claim
If you seek damages in a fault-based claim based on your New York traffic accident, the compensation you might recover may include a range of expenses and losses you experienced because of your accident. Some common recoverable damages include:
Current and future treatment, medical care, and other related expenses
Current and future lost wages and benefits, including other income
Diminished earning capacity if you have permanent impairments
Costs for repair or replacement of your vehicle and other damaged property
Loss of services you can no longer perform for your family
Pain and suffering
Diminished quality of life
Mental anguish
Losses related to losing a loved one
Let Us Review Your Traffic Accident Case Today for Free
At Morelli Law Firm, we can help you understand your rights following a New York car accident. We can review your accident details and assess the facts of your case and the severity of your injuries. We can explain your options and represent you throughout your case. This means you do not need to pay anything out of pocket for our services. We get paid from the settlement we recover for you.
Call (212) 751-9800 to get started today with your complimentary consultation. We represent clients following car accidents all throughout New York up to Albany, northern New Jersey, and Philadelphia.